Slack
At least daily, I check the various Slack environments in which I participate. (Actually, since that rose to about eight, it's no longer strictly true).
Email
The best way to contact me is by email, at the address provided above. I ordinarily check email every day.
Messaging
I can be reached on Signal using my public phone number, and on WhatsApp and Telegram using private numbers.
Phone
I generally have my mobile with me, and switched on. If you call and can't get through, it generally means that I've run out of battery power, am on the phone to someone else, or have deliberately disabled incoming calls for some reason. I don't at all mind being called very late at night, especially if it's international - if I didn't want to receive calls I'd have the phone switched off.
The phone number is: 07779 296469; callers outside the UK want to try +44 7779 296469.
My phones are gradually being converted to use a virtual phone service I operate myself; more details once it is fully established.
Please don't bother trying to contact me by voicemail or SMS. I try to block all incoming messages via those channels.
Encrypted email
People occasionally have cause to send me encrypted email, particularly for sensitive passwords. Several PGP keys with my name on them are in circulation on the Internet keyservers. The one you want is 0x4E02E32F, though the email address associated with it it is now no longer in use.
Inbox
My inbox receives vast amounts of email, sometimes unmanageably so. Here's a chart of its size against time.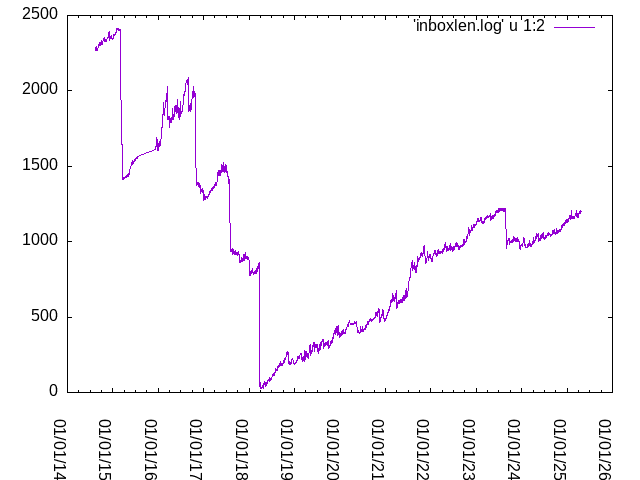 Scuttlebutt
I am gradually establishing an identity on the main Scuttleverse, and running an experiment on an invite-only Scuttleverse. Drop me a line for an invitation to the latter.